The wee ones are in early elementary school - kindergarten and first grade - and don't yet have too much homework. There are still a lot of expectations over what they will learn and absorb, and we look for ways to help them and make it fun. We do math in the car, and we play games to help them learn. We've now discovered Math Blaster, a website that is another tool we're adding to our arsenal.
Math Blaster is a new math website filled with games for kids to play. It comes from Knowledge Adventures, which also runs the JumpStart website that we
reviewed
over a year ago. The cool thing is that a Math Blaster membership also grants you access to JumpStart, something the wee ones are
very
excited about.
This educational website isn't free, but there is a ton of content, and it has access to both sites. You can also have up to six children on a site, so you aren't paying more for each child in your family - and that helps me out a ton, especially as I think about all the different camps and classes and enrichment activities I do have to pay for! You can gain access to the stie for $7.99 monthly, $74.99 annually, or $149.99 for a lifetime. Plus, you can also download four other JumpStart games for free.
Much like JumpStart, you create an avatar to represent yourself throughout the game. This one is called a Blaster, and the wee ones had a blast choosing what it would look like from the skin color (alien) to the hair (wacky and brown) and more. That avatar starts out at the Blaster Academy before they become members of the Intergalactic Space Patrol and explore a futuristic world, voyage to strange new planets and discover wacky alien races, all while practicing math skills.
Even in the few weeks that we've been playing with Math Blaster (yay for something educational and entertaining to do while Mister Man has been home sick the majority of March), many new games have been added and the area has been redesigned to make it even more fun.
There are tons of different types of games and skill to practice from addition and subtraction to decimals and place value and more. With this game, I've been able to explain the concept of tenths and hundredths in place value as well as gaining a stronger understanding of division.
That said, Mister Man is struggling with his addition and subtraction math facts. While he understands the logic and problem solving behind those concepts - as well as many other concepts - he hasn't bothered to just go about memorizing the math facts. Instead, he calculates the majority of them each time. With these games, he's more compelled to start to memorize them so that he can get further in the games and score more points - and I'm all in favor of that!
While this isn't the only way that we're working on our math skills, I do like having this as another option. The more varieties of ways we play with math and use it, the more it sticks - and it keeps them from getting bored with it. And I do like how there are different ways to play the games from fast-paced type things in as fast as you can or you'll eventually lose to games where you can take your time and getting the answer is the most important thing.
Mister Man's favorite game so far is Oozami. He really likes the idea of caustic slime building up while he's searching for the right answers with his guy - trying to find where the 5 in the thousands place is or searching for the 6 in the hundredths place. This is the game that has really helped him solidify his understanding of place value, both what he's being taught in school now (tens, hundreds, thousands) and what isn't yet being taught but concepts he can figure out (tenths, hundredths).
These games are ones that Mister Man can pretty much play on his own. That said, he still does enjoy having me "help" him by moving the character and typing in the answers where required while he shouts them out to me. His fine motor and hand eye coordination still leaves a bit to be desired, and this helps him compete in the games more successfully - and I like the ability to work on them with him, both spending some quality time with him and getting a sense of what he does and doesn't understand in math so I know what to work with him on.
While most games are math oriented, there are some that are purely for fun. The B-Force Blaster game is strictly a target laser shooting game. The more targets you hit - except the good guys - the better your score. The Galaxy Grand Prix is also more for fun - a speedster game where you race your space vehicle around a track. Granted you can build your own tracks and use some geometry there, but it's not a strictly math game in my mind. Those are fun to keep interest in Math Blasters up, but they aren't the ones that I encourage Mister Man to spend most of his time playing.
Periodically, there is a red alert where all cadets are called to man brigade and help protect the space station from enemy forces and space debris. When the emergency alarm goes off, you head to one of the three Red Alert portals to play a shooting game where you earn points for each piece of debris that you prevent from hitting your ship in a timed play.
As with JumpStart, the graphics are simply amazing. The action is smooth, and there is so much detail that really makes it fun from the creativity of your individual Blaster to the fish that swim under the floor in the Training Academy and more. You can turn in all directions and see under or over or behind objects that move as they would in a 3-D world. It definitely makes the game more fun - and again, it's so much more advanced than the graphics of the games I grew up playing!
While the game is targeted at ages 6-12, this is something that Little Miss (5 1/2 and in kindergarten) is well able to play and enjoy, as well. I am pretty sure that Mister Man will be finished with this game before he's 12, however - but that's also partly because he is already doing division in first grade. I do love that Math Blasters allows the wee ones to choose what level and and type of math they're going to do so that it is appropriately challenging as they progress and learn more.
As I mentioned previously, Math Blaster is continually evolving, especially as it's only been live for a few months now. There is a
Math Blaster Blog
that helps keeps parents up to date on new additions to the game, which helps me know what to look for, and it explains a bit about what some of the various items are. While there are various tutorials within the game to help you find your way, some things need a little more explanation, and the blog has definitely helped out with that.
That said, the game isn't perfect. I have had a problem for weeks with the Alien Wrangler game. In this one, you are riding an alien in place of the stereotypical mechanical bull. As math problems flash on the screen, you type in the answer to keep the alien calm. If you don't answer quickly enough or if you answer incorrectly, the alien becomes more wild until you're finally bucked off. I am able to get the alien to recognize answers from me for awhile - perhaps the first eight questions or so - but then it simply stops allowing me to type in anything and Mister Man is bucked off as the alien becomes more wild because we "haven't answered" anything. I have yet to find a solution to that, and it's been frustrating to Mister Man, as it is otherwise one of his favorite games - or at least the concept of it.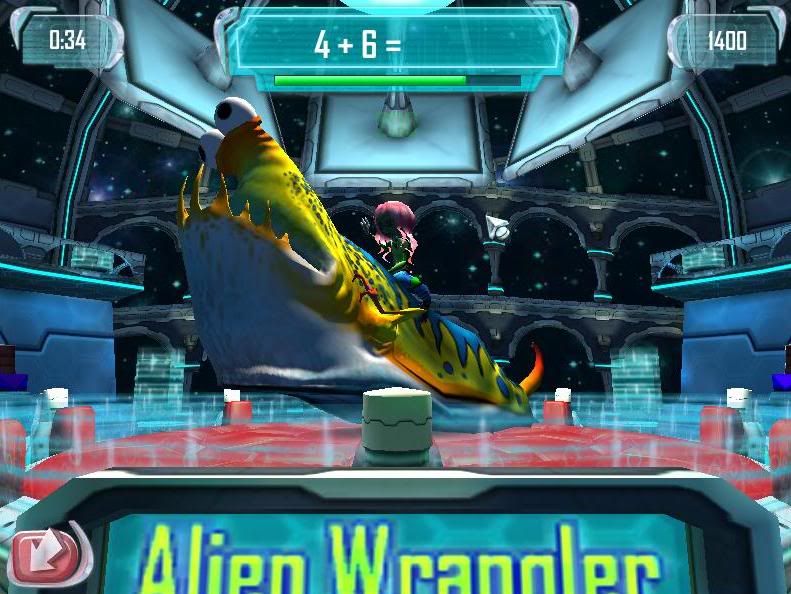 This has been a great diversion for us while Mister Man was sick, and I definitely see us playing it - both Mister Man and Little Miss - over the summer to help keep their math skills sharp when they aren't in school. It's another way to make math fun and practice it, and I know they enjoy it!
So what do you have to do to win a six month membership to Math Blaster (which will also work on the JumpStart website) for yourself? First of all, let me stress that you must follow all the rules. If you do not follow the rules, your entry will not count!
This contest is open until Monday April 18 at 7pm CST. I must have a valid way to reach you, so leave me your email address in your comment or be sure your profile has your email address visible. No duplicate comments will count. This giveaway is open to US residents age 18 and older. Winners will be selected via random.org and must respond within 48 hours of being notified by me or I will select a new winner.
Mandatory Entry
: Tell me: what helped you learn math growing up?
Bonus Entries
(leave a comment for each entry - if you put it all in one comment, I'll count it as one entry):
1) Earn one additional entry for
following me
on
Twitter
and
tweeting this contest with the following tweet: "Get your math on! Help keep your kids' math skills up with Math Blaster from @honestandtruly http://bit.ly/hkyGKr" (leave a link to your tweet as your comment and make sure you do all the steps!)
2) Earn one additional entry by following this review blog publicly via Google Friend Connect.
3) Earn one additional entry by following my "regular" blog
Honest & Truly!
publicly via Google Friend Connect.
4)
Like my blog
on Facebook and let me know what name you used to like it.
Good luck!
In the interest of full disclosure, I was provided with a membership good for Math Blaster and Knowledge Adventure at no cost by Knowledge Adventure in order to test the products' abilities and give my own personal opinions on it. The opinions I have given are mine and may differ from others but were not influenced by the company or the free product provided. There was no compensation involved.